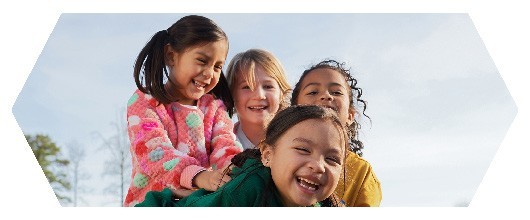 You're invited. Press play with us.
Making friends, testing her strengths, exploring new possibilities. It's all here for her.
Whether teaming up with others or learning to shine on their own, Girl Scouts have the tools and community support they need to succeed.
Press play with Girl Scouts. Where she can be herself and her confidence can soar.
She's ready to go.
And grownups? Whether you have kids, grandkids, or no kids of your own, you can have a front-row seat to the fun and community, too. Press play and volunteer with Girl Scouts. You've got what it takes to change girls' lives.

Join Girl Scouts
Join Girl Scouts Today!
A great way to learn more about Girl Scouts in your neighborhood is to attend an event for new members.  

Whether you want to register your daughter, become a volunteer, or both, local staff members and volunteers will be on hand to answer questions and help you get started. Adults and girls grades K–12 are invited to attend. Be prepared to laugh, enjoy a craft or game and learn how Girl Scouting improves girls' lives! 
Click on a date below to find an upcoming event near you! You are welcome at any of these gatherings that is convenient for you. Don't see a date that works for you? Contact our Member Placement Team at 804-746-0590 or email [email protected]
September 2021 Join Events

Saturday, September 18, 2021 at Children's Museum of Richmond, 10am-2pm

Friday, September 24, 2021 at Rockwood Park, North Chesterfield, 5-7pm

October 2021 Join Events

Tuesday, October 5, 2021, 7pm at Woolridge Elementary School Cafeteria (5401 Timberbluff Parkway, Midlothian, VA 23112)

Saturday, October 16, 2021,  11:30am-1:30pm at Trinity United Methodist Church (6600 Greenyard Rd, Chester, VA 23831)

November 2021 Join Events