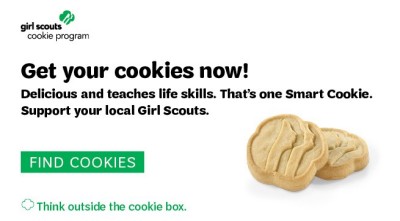 The Girl Scout Cookie Finder makes it easy to find cookies! Click continue, then type in your ZIP code and choose from a list of locations near you. 
Continue >

The 2020 camp book is coming soon to the mailbox of every Girl Scout family. If you can't wait for the printed camp book, then you can see the digital camp book here. Camp registration opens at 8 p.m. Dec. 9. As always, camp registration is first come, first served. During the summer of 2020, we will offer eight weeks of girl-inspired residential camp opportunities. New adventures are waiting, and our camp book has the details.
Continue >


It is our privilege and honor to welcome you to the Inspired by a Girl 2019 Girl Scout Gold, Silver & Scholarship Recognition Event. As you read through the stories and project descriptions of this year's Gold Award Girl Scouts, we hope you are as inspired as we are by these exceptional young women who identified challenges in their communities, tackled them head-on, and developed sustainable solutions to make their communities better for all.
Continue >