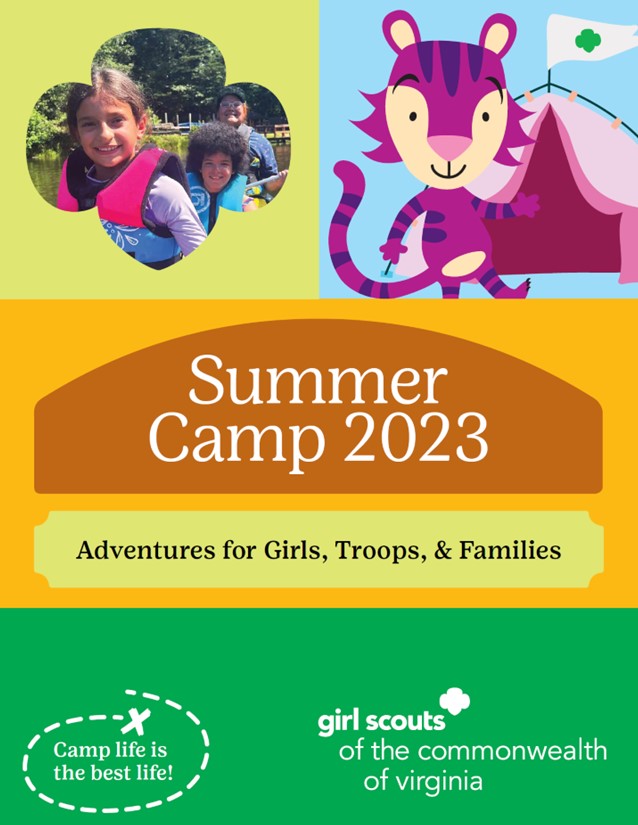 Resident Camp
You live in a world of screens—smartphone! laptop! TV! tablet! —and sometimes you just want to get away from it all. We get it. That's why you can focus your whole Girl Scout experience on getting outdoors.
You'll develop the kind of outdoor skills it's hard to get anywhere else. Skills like building a campfire, pitching a tent, or canoeing across a lake.
Summer camp is hosted at two of our camp properties: Pamunkey Ridge Girl Scout Camp and Camp Kittamaqund.
Our Camps

Register Today

Camp Sessions at a Glance

Camp Pamunkey Ridge Camp Sessions

Camp Kitty Camp Sessions

Teen Leadership Opportunities

Troop Core Camp

Volunteer-Led Day Camps

Family Camp

Camp Service Days

Camp FAQ's

Frequently Asked Questions

When and how can I register my camper?  January 10, 2018. It is fast and easy to do. For your convenience, we offer three registration methods:

1. Online: www.comgirlscouts.org/COMAR

2. Email: Send the registration form to [email protected]

3. Mail: Fill out and mail the registration form to:

Girl Scouts of the Commonwealth of Virginia 4900 Augusta Ave., Suite 200 Richmond, VA 23230

Is Financial Assistance available?   Yes! We want every girl to experience camp! Financial Assistance is available to help families meet the cost of sending their girl to camp. See the 2018 Camp Financial Assistance form to apply.

Is my camper ready for camp?  Making the choice to attend camp for the first time is an important decision for both camper and parent. There are some great ways to ease into the camp experience. You can try a shorter session or come to camp together at Family Camp. Visit camp during our Open House on May 6th from 2-3pm at Pamunkey Ridge and get a lay of the land, check out the facility and get your questions answered. Then, encourage your girl to be part of the planning process by looking through this booklet together and picking the camp session that fits your schedule and her interests. Invite her to take a helping role in preparing for camp. With your help, she can shop for supplies, pack her own bag and pre-address stationery to use at camp. See you this summer!

Am I ready for my camper to attend camp?  Our camp staff has been helping girls work on being independent for a long time. While the schedule says, at camp we teach dance or arts & crafts or canoeing, what we really teach is self-reliance and resilience – invaluable skills for every girl. Reassure yourself, as a parent, that you've done your job. All the advice, coaching, caring and goodwill you've given your child over the years is in there. Trust the job you have done.

Who are the camp staff and volunteers?  At the heart of our camp program is great staff. They love working at camp and their joy shines through in the experiences they create for our campers. Our staff members know what a great camp can do: forge friendships, open minds, foster lasting memories and change lives!

Our staff members love to work with youth. We look for people who can work as a team, who want to help campers develop in both social and in skill areas, who are committed to keeping camp a kind community and who have Girl Scout experience. We demand that our staff is amazing and we help them develop the skills they need to get there.

Our staff comes from all over the U.S. (and even from abroad) but they return to camp each summer and bring their own life experiences with them. This diversity creates a welcoming, accepting and kind community at camp that begins with our staff and radiates throughout all camp community members. Many of our staff "grew up" in our camp program and return year after year to share their passion with our campers.

What if my camper has special needs?  Our policy of inclusion means that we try to accommodate as many campers as possible and provide a successful experience for all girls. Please partner with our staff to help make the camp experience for your child. Communicate with the Camp Director Kat Shreve, [email protected], prior to registering your daughter for camp about her needs. This enables our camp staff to make every effort to make reasonable accommodations.

Can my camper bring her cell phone or tablet with her?  It is our long-standing policy that campers are not permitted to have a cell phone at camp. We believe that being at camp is an opportunity for your girl to experience a world beyond home. Additionally, other forms of electronics like tablets or laptops can be a distraction and may not be hearty enough for the camp environment. To circumvent the damage to such items, please leave them at home.

Can my camper be placed with a specific friend/buddy at camp?  We do everything we can to accommodate such requests. Campers may choose one mutual buddy. Please remember that one of our goals is for every camper to make new friends. We would never want a cabin group nearly full of girls from the same school and have one or two campers left out of that circle. Please note that girls need to register for the same session, be in the same grade, be on the same Girl Scout level, and list, mutually, each other as their buddy.

How do we apply our credits earned from the Cookie Program?  Our camp sessions fill quickly, please register with your deposit to hold your spot at the time of registration. Your camper's Pathway Pass will be issued to her for her use in mid-April upon completion of the cookie program/season. Once credit is given for the earned/free session of camp, you will be issued a deposit refund if applicable.

Confirmations  Confirmation of camp registration will be sent to your email address beginning in February. Confirmations will include required paperwork, health form, packing lists, directions to camp and more!

Camp Trading Post

Forms
Hey, how about adding some rock climbing, and archery to the mix? Round things out with a ropes course, some zip lining, and maybe a week-long back-country trek, and you'll find out how much fun it can be to unplug and explore the world around you.
Get in touch with your artistic side and learn to sail in the summer sun. We have camps for every interest and age level.