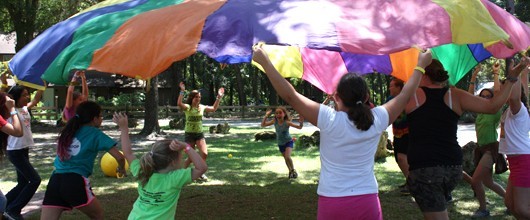 Explore Our Camps
The crackle of the campfire, the splash of canoe paddles in the lake, the whoosh of an arrow flying towards the bullseye—these are the sounds of a beloved summer tradition: Girl Scout camp. It's a special time that allows your girl to unplug from her electronics and connect to nature, peers, and herself. She will build skills and confidence through new experiences under the guidance of caring, trained adults. Oh—and she'll have a ton of fun too!

2018 Summer Camp Book
Access a printable version of the Camp Book
Register for Camp Today!  Registration for camp is now open! For your convenience, we offer three registration methods:
1. Online: www.comgirlscouts.org/COMAR
2. Email: Send the registration form to [email protected]
3. Mail: Fill out and mail the registration form to:
Girl Scouts of the Commonwealth of Virginia 4900 Augusta Ave., Suite 200 Richmond, VA 23230
First time at camp?
Welcome to your girl's new "happy place." Whether she wants to have fun in the sun at Day Camp, tell stories around the campfire at Resident Camp, or try a short-term Outdoor Experience like an afternoon or weekend at camp, we have a great fit for every girl.
How to begin:
Flip through the Summer Camp and Events book to see what we offer.
If you aren't currently a Girl Scout, you can register as a girl or adult member using COMAR. Then sign up for your camp sessions.
Once you sign up for your session, you will receive additional information such as directions, a packing list, and all the necessary paperwork.
Bringing the Troop?
Come to Camp join other troops for a special Troop Overnight Event, or plan your own outdoor adventure with Troop or Service Unit Camping. There are lots of fun ways to get your girls in the great outdoors!
Want to work at camp?
Change lives, gain skills, and have a summer you will never forget! Check out Summer Job Opportunities to learn more and apply online.